Clinton colluded with Russian Federation, "paid for a warrant" to surveil Carter Page MORE and Michelle ObamaMichelle LeVaughn Robinson ObamaSNL's Melania Trump gets advice from former first ladies ahead of the State of the Union Trump to host Super Bowl watch party at Florida golf club Michelle Obama: Bad behavior in the age of Trump makes teachers' jobs more hard MORE now have a permanent place at the Smithsonian in Washington, D.C.
Dozens of friends and supporters, including former Attorney General Eric Holder and Senior Adviser David Axelrod, gathered in the atrium of the gallery for the ceremony. Also expected to attend were Steven Spielberg and Kate Capshaw, Tom Hanks and Rita Wilson, and Gayle King.
While artist Kehinde Wiley is typically known for portraying African-Americans as "famous figures in Western art", his portrait of the 56-year-old 44th president "does not include an overt art historical reference", according to the Smithsonian.
Former President Barack Obama's portrait is set to be revealed next.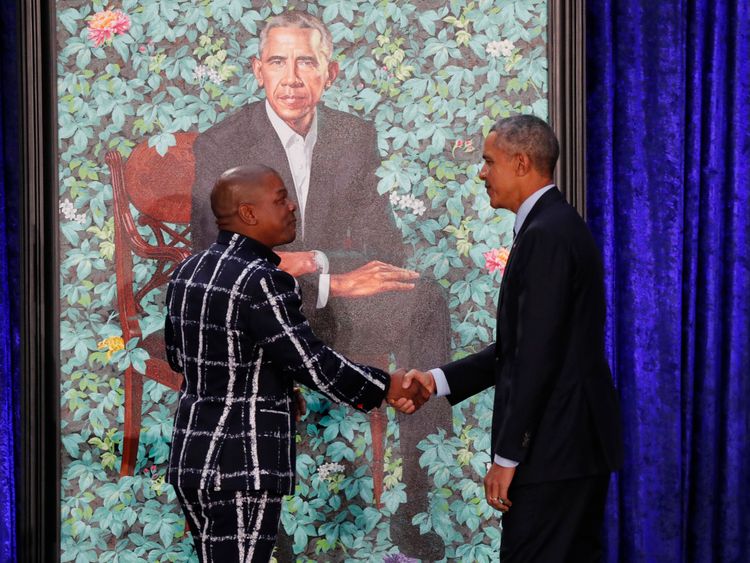 Image Mr Obama described Kehinde Wiley's work as 'extraordinary
Mrs Obama's portrait, was carried out by Baltimore-based artist Amy Sherald, the first-prize victor of the Portrait Gallery's 2016 Outwin Boochever Portrait Competition. Obama, 54, is seen wearing a dress by fashion designer Michelle Smith's label, Milly.
Spielberg and Capshaw were among the major donors who funded the commission, and other contributions came from John Legend and Chrissy Teigen.
The portrait of the former first lady will be featured in the museum's "recent acquisitions" corridor.