The president reportedly questioned why the United States would accept more immigrants from Haiti and "shithole countries" in Africa rather than nations like Norway. You've seen the comments in the press.
Durbin, the second-highest-ranking Democrat in the Senate, described the president's words as "hateful, vile and racist". Was in the room.
The Washington Post first reported the comments Thursday.
Trump himself denied making the comment, but in vague terms, on Twitter. "What was really tough was the outlandish proposal made - a big setback for DACA!". And this vulgar language at a meeting about the Deferred Action for Childhood Arrivals (Daca or Dreamers) programme!
He described his language as tough but not derogatory.
On Friday, Trump tweeted: "Never said anything derogatory about Haitians other than Haiti is, obviously, a very poor and troubled country".
The two men said they "do not recall the President saying those comments specifically" but also didn't deny he said them. Made up by Dems.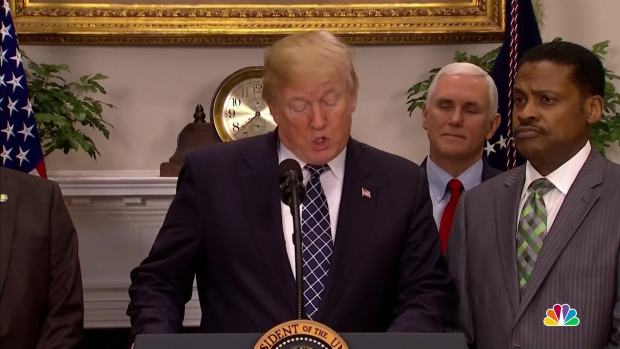 President Trump Signs MLK Day Proclamation
For his part, Durbin told the president, "I raised the point If you exclude Haitians from this group of temporary protected people, the conclusion is obvious. Probably should record future meetings - unfortunately, no trust!", the President tweeted.
'My colleague, Republican senator Lindsey Graham of SC, spoke up and made a direct comment on what the president said, ' Durbin said in the Capitol, CNN reported.
He also said he appreciated Durbin's statements, and he remains committed to a bipartisan solution to keep Dreamers in the country.
UN Spokesman Rupert Colville said Trump's comments, if confirmed, were "shocking and shameful" and opened the door to "humanity's worst side and go against universal values". "They were not made in front of members of Congress, they were not made in a setting that they would be reported and when they did come out, presidents apologized".
"I'm bothered by what he said, but I don't think the entire America would agree with him", Charitable said.
Spokespeople for the White House did not immediately respond to a request for clarification Friday. Bob Goodlatte of Virginia, had been pushing for stronger immigration enforcement and a less generous package for the Dreamers. He also said Haiti should be left out of any immigration deal. All were immigration hardliners: House Majority Leader Kevin McCarthy, Florida Rep. Mario Diaz-Balart, House Judiciary Chairman Bob Goodlatte, North Carolina Sen. There can be sharp differences on immigration policy in Washington and in Tallahassee — the Florida House on Friday voted for foolish legislation that would punish so-called "sanctuary cities" and that Pinellas Sheriff Bob Gualtieri has called "flat-out unlawful".