Prime Minister Narendra Modi on Sunday asked political parties to isolate corrupt leaders and refrain from rushing to their defence taking the plea that action against them was part of political conspiracy.
He claimed that the platform of cow protection was being abused by some anti-socials who want to spread anarchy across India. "And people looking to spread discord in the country are taking advantage of it".
Modi sought opposition support in curbing the violence that "has an impact on the image of the nation".
"Cow is treated as a mother and it is an emotive issue. But we have to understand that there are laws governing cow protection and breaking it is not an alternative", Modi tweeted after the meeting. "He would have never approved of cow vigilantism".
Sunday's is the latest in a series of statements that the PM has made against "gau-rakshaks", amid protests over cases of cow vigilantism and mob frenzy.
A structured meeting within the Congress on the party's strategy in the coming session is slated on Monday, when the session is unlikely to transact much business due to the Presidential election.
Modi took a dig at RJD chief Lalu Prasad, who is facing fresh corruption charges, as he sought cooperation in fight against corruption.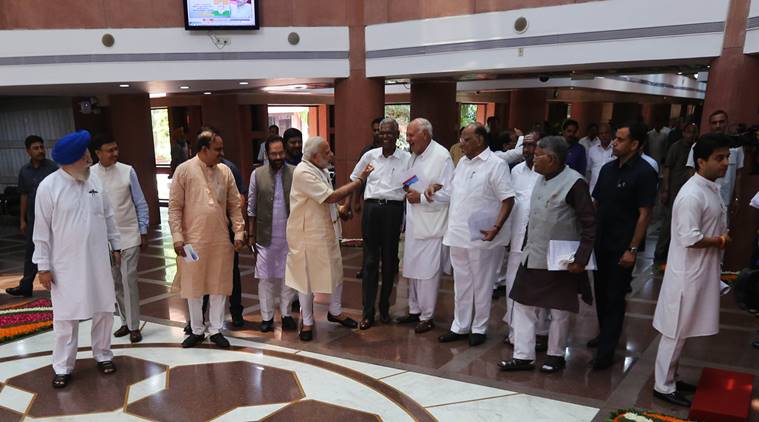 "For several decades, integrity of all politicians has been questioned because of actions of a few leaders in our midst. It is the responsibility of all political parties to take action against such tainted leaders". Mr. Modi urged the political parties to help government in ensuring that Monsoon session of Parliament become productive. However, no one from JD (U) or TMC was present. The Janata Dal (United) also skipped the meeting.
On the issue of Kashmir and tensions with China, Kumar said the government had a meeting with opposition leaders and every party has said they were with the government on matters of national security.
Opposition leaders expressed concern over the Sino-Indian stand-off, expressing the hope that the matter would be resolved soon. "PM Modi said that he has started a war against corruption and he called all-party meet for the same reason", Kumar added.
"Farm distress" and the "economic burdens" on the people were also taken up.
The issue has raised concerns as the targets of such violence have been minority members and Dalits. "It (cow vigilantism) should not be given political or communal colour; the nation doesn't benefit from it".
Kumar said Modi also noted that the 75th anniversary of the Quit India movement falls on August 9 and all parties should celebrate it.
Please Wait while comments are loading.